Advantage:
1.Increased Accuracy - Compared with original structure, dual Z-axis kit reduces the layer ripple caused by Z-axis vibration, increasing the printing performance of 3D printer.
2.Smooth Running - Upgrade Single Z-axis structure to a dual Z-axis structure, avoiding backlog of filament thoroughly, which improves stability of 3D printing.
3.Easy Leveling - Both ends of the X axis are raised and lowered synchronously, which reduces difficulty and frequency of bed leveling obviously.
4.Stable Performance - Compared with Closed Timing Belt, this 3D printer parts set still retains the design of stepper motor to ensure screw rod smooth operation.
5.Easy Assemble - No need to modify or weld the machine, no need to replace motherboard, this 3D printer accessories kit comes with instructions, could be assemble quickly.
Suitable for:
Ender 3 dual Z axis Upgrade Kit compatible with
Creality
Ender-3/3S/Pro 3D printer.
Suitable for:
CR10 dual Z axis Upgrade Kit is compatible with
Creality
CR10/CR10S 3D printer.
Item Type: Dual Z Axis Lead Screw Upgrade Kits
Size: package: 520x150x85mm/20.4x5.9x3.3in
Fit: for Ender 3/3S/Pro 3D printer, CR10/CR10S 3D printer.
Please select the 3D printer you need to upgrade, the Lead screw length and accessories of the two are not exactly the same. Thank you!
1 Set x Dual Z Axis Lead Screw Upgrade Kits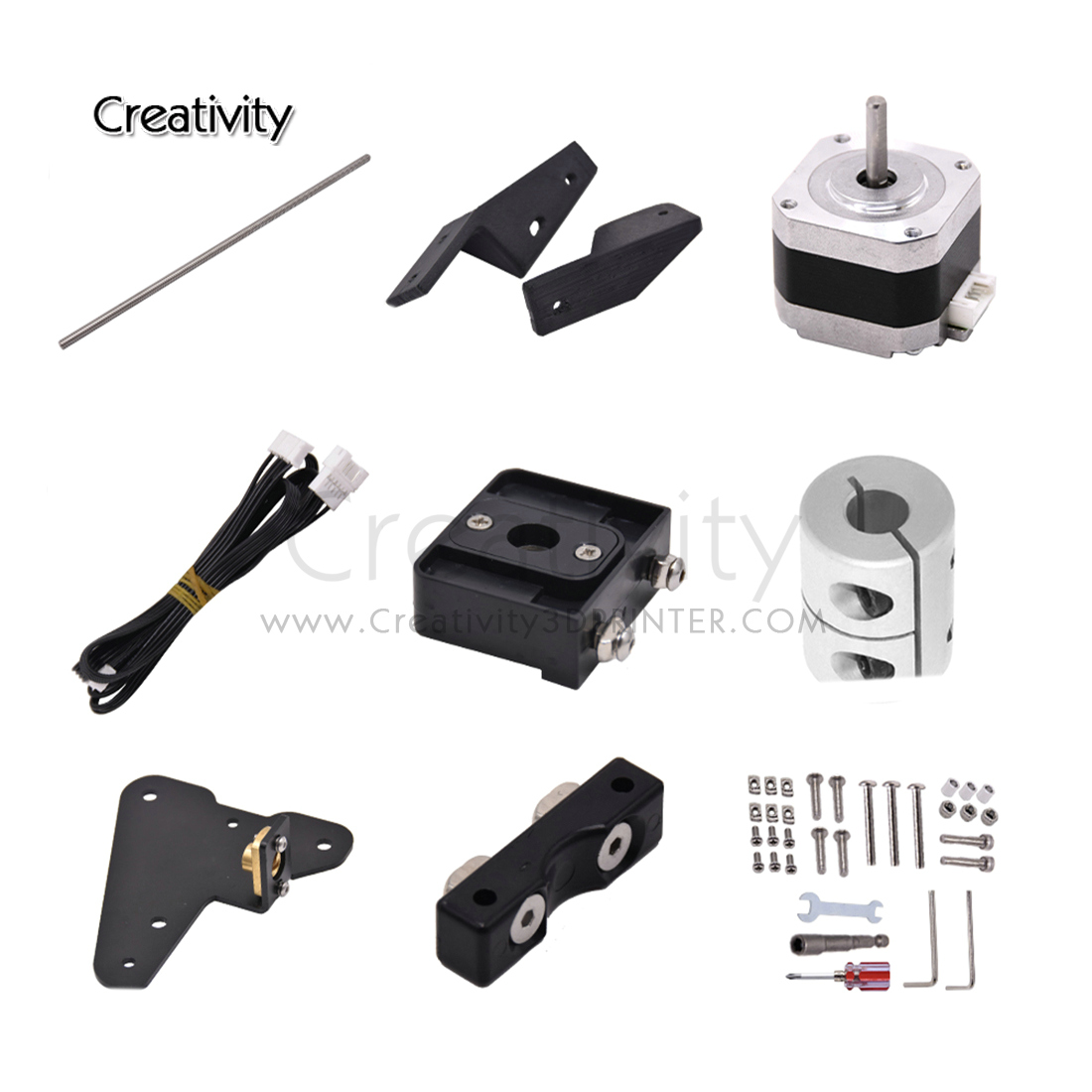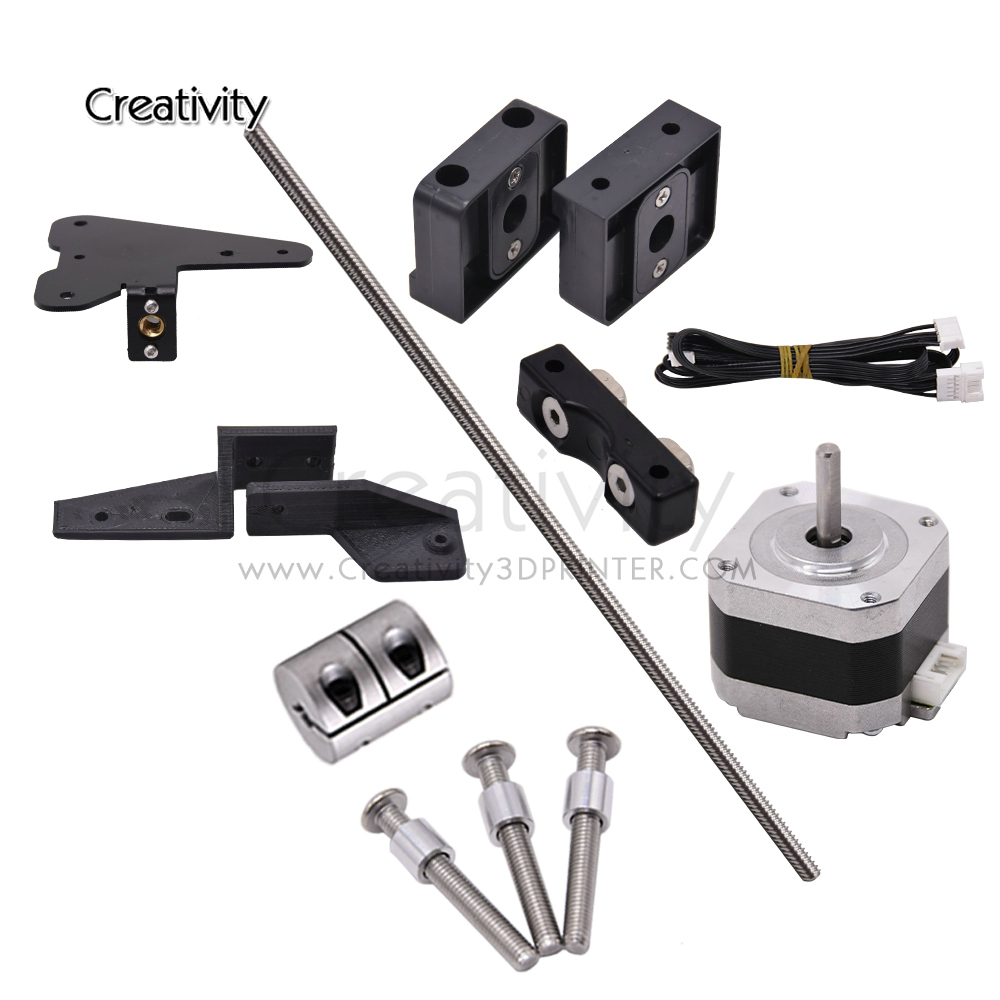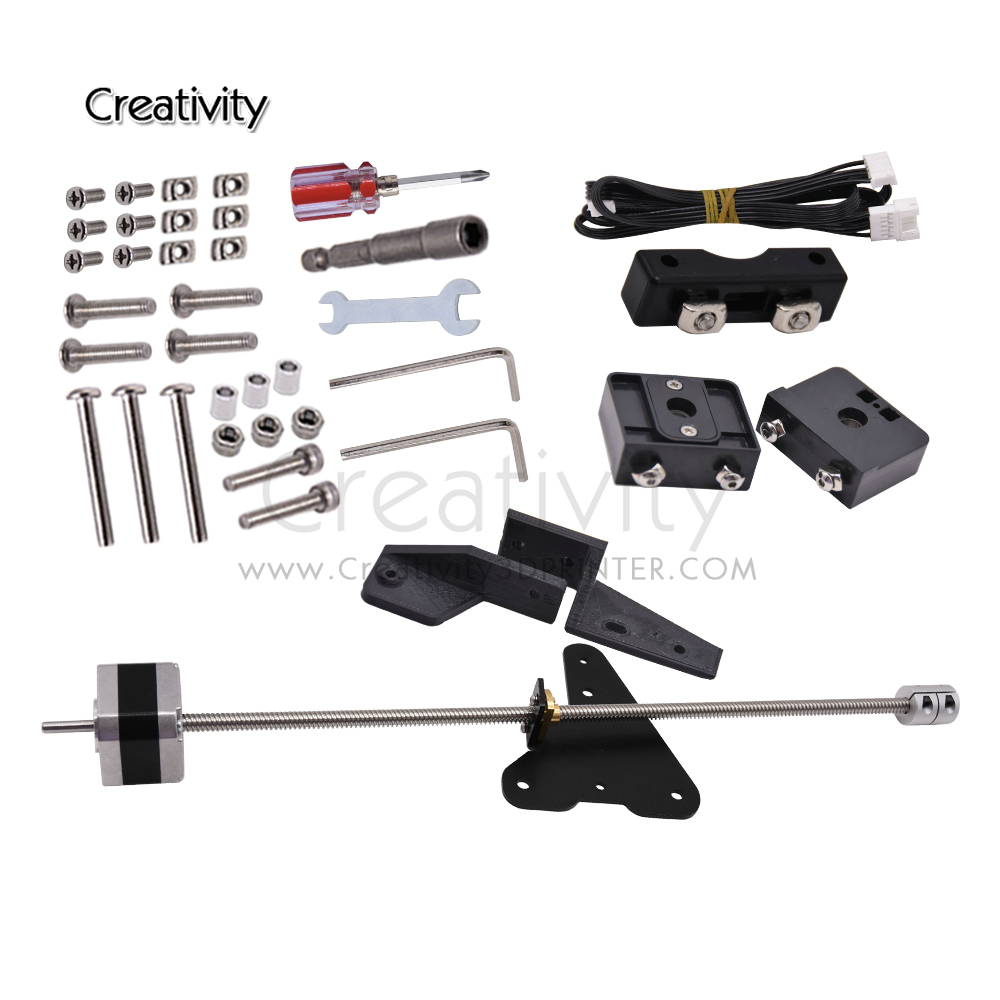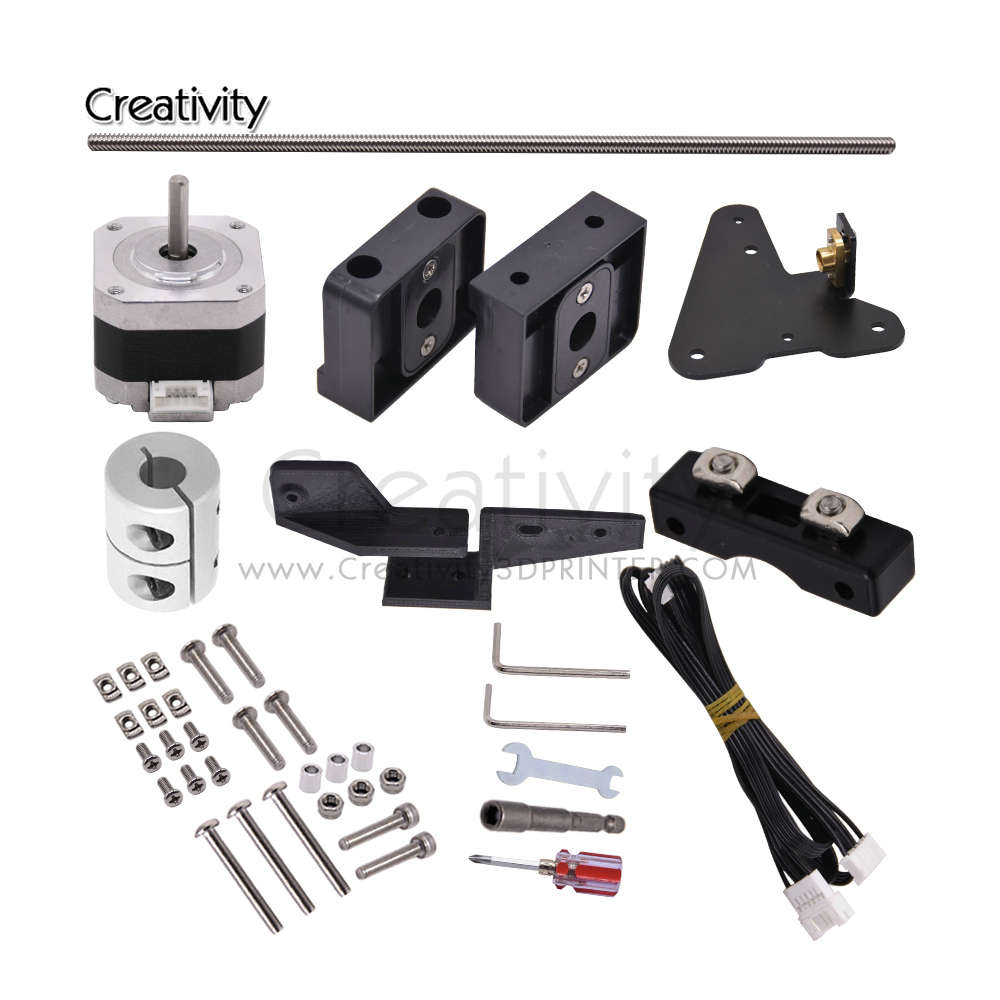 ShenZhen Creativity Technology Co.,Ltd Description:
Creativity is an innovative high-tech enterprise specializing in 3D printer design, R&D, production, sales, spare parts and 3D printer related derivatives. The company is committed to the development and innovation of the 3D printer market for individuals, families, education, The company provides an efficient and affordable 3D printing solution to meet each customer's requirements for efficiency, quality and rapid prototyping.
Extended keyword:Creativity 3D printer,I3 3D printer,Core XY 3D printer,3D printer motor,Stepper motor,17HS4401,17HS4401S,NEMA 17 Motor,NEMA 23 Motor,Stepper motor dirver,3D printer accessories,3d printer parts,Bearing,Coupling,Extruder kit,Titan extruder,CR10 extruder,MK8 extruder,nozzle,MK8 nozzle,E3DV6 nozzle,MK10 nozzle,Throat,PLATO 170,3D TOUCH,BL TOUCH,LERDGE,Automatic leveling,PTFE tube,Heating aluminum block,100K Line,E3DV6 Kit,GT2 Kit,Motherboard controller,motor driven,Heat resistant tape,Linear Bearing,LCD2004,A4988 stepper motor driver,Drv8825 stepper motor driver,T8 lead screw,E3D J-head,Pulley&Timing belt,Drag Chain,The Radiator,Linear guide,3D printer supplies,PLA filament,ABS filament,PLA,ABS,3D printer hot bed,3D printer fan,3D printer nozzle,3D printer power supply,3D printer motherboard.
Description:Creativity is one of the most professional 3D printers and accessories from China. The exclusive development of two-color 3D printers and Core XY3D printers are well received by users around the world; we are committed to being your most trusted supplier,Our's will use the best deals price is for you and one-stop service.
1.About us:
ShenZhen Creativity Technology Co.,Ltd is a one-stop service provider for 3D print production, R&D, sales, accessories and 3D print-related derivatives from China.

Creativity All of Our's 3D printers and accessories products provide global (custom, design, proofing)
2.Contact:
E-mail: sales02@creativity3dprinter.com
3.PAYMENTS:
We accept the following payment methods:
Escrow,T / T in advance, Paypal, Western Union.
If you have any other terms, pls contact us.
4.Long Time Warranty:
We offer 90-365days warranty on all items. Parts can be returned for replacement or refund during the warranty.
Items will be tested before shipment.They will be in good condition.If there are some problems with the items, feel free to contact us.
Please kindly contact us before returning any products. All returns must be made within 90 days from this shipment date. Return must be in new condition(the SAME CONDITION as it was sent to you).
5.Fast SHIPPING:
Parts would be shipped out within 1-7 working days.
If you don't have an account with any courier, we can help you to prepare the transport on our side and prepay the shipping cost here. We can ship our parts by DHL, UPS, FedEx, TNT and etc. to most places of the world. If you prefer any other shipping ways, please tell us and we'll check if it is available. We will ensure the lowest shipment cost.
6.CUSTOMS DUTY & HANDING FEE:
Please kindly note that our price is EXW price, not including shipping fee or handling fee.
When parts arrived at your local custom, if the parts were charged customs duty, we do not responsible for any custom duty or import tax.
7.CONTACT US:
Our office hours are 9:00am-12:00am ; 1:00pm-6:00pm China HK working time.Monday-Friday, except holiday.
All E-mails would be answered within 24hours, Trademanager would be answered within 5minutes.
Please don't be discouraged if your email is not answered during non-business hours.
We are closed weekends, so if you email us on Friday, we may not get back to you until next Monday.
If you have any issues, please CONTACT us before leaving negative feedback, we reply email in 24 hours.
8.Domestic Cooperation:
We can be your native partner in China with our one-stop supply capacity. If you're in China, you're welcome to give us an investigation.

Creativity will make sure give you 100% satisfactory answer. Choosing Creativity is you right choice.
Thank you for visit.Should you have any queries, feel free to call or e-mail Our's.