2020.5.15 Creativity ELF source code released!
15/05/2020 | Jacky,Rao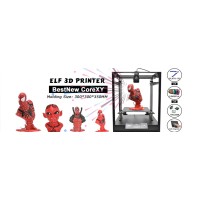 good news!

In order to thank everyone for their support for Creativity, CoreXY ELF 3D Printer has been in full sales since October 2019. According to incomplete statistics on all sales channel data (including agents, e-commerce platforms, wholesalers), ELF it has been The sales of more than 1000PCS are now determined by the company to be publicly released at 2020.5.15 ELF source code, which can be modified and DIYed by everyone.
However (the source code is only for 3Dprinter professionals, it is not recommended for novices to modify and use it. If you modify the source code yourself, you will no longer enjoy free after-sales service, please understand!)
The Creativity team wants you to use ELF happily.
Creativity ELF source code download:
http://www.creativity3dprinter.com/ELF/ELF_MksRobin_Nano_code.zip